After a slightly longer than planned break from the blog (mainly thanks to turning 20, moving out, starting uni and just generally adjusting to the adult life), I'm back baby! Since I was last active on here, the many different worldwide fashion weeks have been taking place and I've been briefly browsing through each of the shows. However, today I took some time out to collect my thoughts together and share some of my personal favourite moments, the things I thought were a bit dry, and all the drama involved in between (ESPECIALLY that Chanel show).
Favourite shows:
Alexander McQueen
So obviously I'm going to have to start off with mentioning that Sarah Burton absolutely killed the McQueen show, without a doubt. She brought back Lee's signature usage of lace and leather in a much more contemporary manor than current practices from other modern day houses, which felt as if Lee was still alive in the collection. She even managed to find an equal balance between sustaining the McQueen legacy whilst continuing to push the brand into her own direction with wearable and current styles that I can definitely see being a popular choice for next years red carpets.
Valentino
Valentino also surprised me this time with their choice of colours, or should I say, their lack of it. Many of the looks first seen down the runway were in a block white, leaving most of the focus on the art of garment construction that I think they really wanted to emphasise on in today's fast fashion and faster trends world. Some of the collection also featured illuminated colours that follow on from his recent shows, however I think that these were a much more commercial decision in response to the current neon trend (art and depth is all good but I get that a brands gotta make money at the end of the day and those with money have no idea what to spend it on that's worth it).
Louis Vuitton
I'm also quite shocked to say that Louis Vuitton really impressed me this season too. Yes they were yet another brand to be focusing on 70's silhouettes and colour palettes (not that I'm complaining) yet I think they really hit the nail on the head between referencing history whilst making it contemporary. The tailored jackets were a personal favourite, especially the ones in a PVC/vinyl material that really updated the overall look of the garment whilst being recognisably 'vintage'. Some of the prints weren't really necessary, but I mean ugly prints were a key feature of the 70's so I mean at least they're being on brand.
Needs some work:
It's hurts me to say this, but I just couldn't enjoy the Miu Miu show. As much as I adore the Miu Miu brand and I don't want to go against sweet little fashion grandma Miuccia Prada's work and soul, I just didn't know what was going on. There was such a lack of strong elements that I associate with Miu Miu; there just wasn't enough colour to make all the boxy jackets look a bit less Chanel fall 2019, all the added ruffle details were kept safe and didn't really look that exciting, and don't even get me started on those hippie Santa gilets. Miu Miu is the fun younger cousin of Prada that doesn't have as much of history to live up to and is more commerically aimed to a younger audience, so the last thing I'd expect a young rich heiress to be wearing is a sad grey sleeveless blazer to cocktail party or a yacht trip, it just doesn't work.
Dior
Dior, get your sh*t together. That's all I have to say.
Chanel
Chanel, oh Chanel. I don't even know where to begin with this one. The set was nice? Oh I give up, the collection was boring. Now I understand that this is Virginie's first independent Spring/Summer collection without any input from Karl, but I was still expecting more than this. If the woman worked with Karl for over 30 years as the main co-ordinator of all his ideas, then you should have some kind of understanding of the way in which fashion has developed and is developing in todays world. If your inspiration was the Parisian woman and the complete construction of her wardrobe, then why is a balloon sleeved denim two piece set with lace trim running through it even in your mind in the first place?
Each piece was either just a direct copy of every single Chanel show prior to now, or something that Chanel would never ever be associated with. I hate to dig at another artists work but it's clear to see the panic and rush behind the collection and there's no doubt in my mind that Virginie and the rest of the Chanel team didn't feel complete or successful when finalising this 'collection' if you can even call it that. I think that the company needs time to really focus on the ways in which Karl was only just starting to direct the brand in a positive way just before his late death, and they need to be inspired once again by their own history and their position today and thus understand what message they want to put out.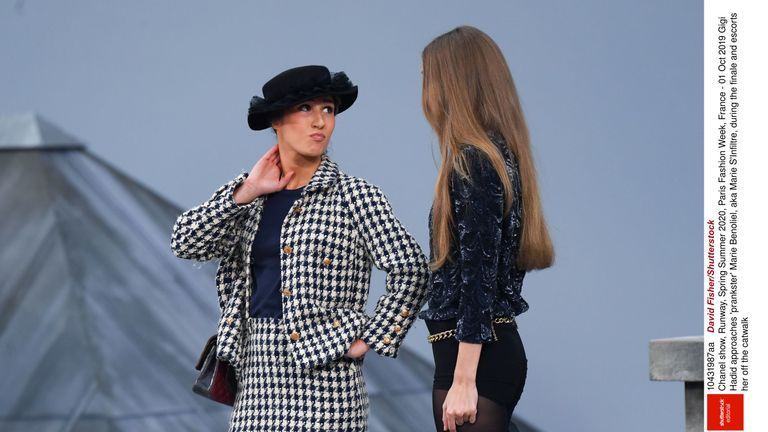 As for the Youtuber Marie Benoliel managing to intrude on the show, enough to get escorted off from Gigi Hadid of all people, and become the most spoken about event of the entire Chanel show, this speaks volumes for how dry and unimaginative the show was. Not just for the drama of an imposter, that has happened on many occasions whether it be PETA activists at shows featuring real fur, or even cats strolling their way across the catwalk. When a car set on fire accidentally at one of McQueen's old shows, people thought nothing of it because it was presumed to be a part of the show. A car sets on fire and nobody bats an eyelid whereas some random nobody walks onto the stage in an unprovoking manor and yet its headline news, what does that say about the show? What does that say about your clothes, your audience even? They walked away from a CHANEL show and all they had to talk about was a nobody.
So, my overall opinion of this fashion week is that the Alexander McQueen brand is the only imaginative and inspiring thing that the fashion industry can clutch onto for dear life, everyone else needs to hire some exciting raw talent in order to provide a future for their brand and keep food on their tables for years to come.
See you soon for a less ranty piece,
Sophie x